iCab Mobile is a web browser for the iOS. It provides many unique and useful features you won't find in other iPhone browsers.
SEARCHING:
iCab Mobile comes with several default search engines you can choose from. You can easily add new search engines. Search suggestions from google and yahoo can be activated on the iPad. It's also possible to search within a web page.
FILLING OUT FORMS:
iCab Mobile can save web forms and restore the form content later (manually or automatically). The saved forms data can be password protected.
FILTER:
There's a built-in and customizable URL-based filter. The default filters block many advertising banners. You can edit, add or remove filters. It's possible to switch off images to save bandwidth.
TABS:
iCab Mobile supports Tabs, so you can open multiple web pages at the same time. Links can be opened in Tabs (in the foreground or background) manually or automatically. iCab can save the tabs when quitting so these can be loaded even when being offline, the next time the App is launched.
BOOKMARKS:
Bookmarks can be organized in folders. You can import/export the bookmarks from/to your PC/Mac browser. Bookmarks can be also saved as "Offline Bookmarks" which can be even opened without an internet connection.
FULLSCREEN MODE:
iCab Mobile provides a fullscreen mode where the whole screen is used to display the web page. No screen space is wasted for toolbars.
DOWNLOADS:
iCab Mobile has a built-in Download Manager so you can download almost all files from the internet. The downloads can be easily transfered to a Mac/PC/Linux computer but also to other Apps on the device which can open these files (iOS 3.2 or newer required).
SCROLLING
The unique "Scrollpad" feature lets instantly scroll to any location within a web page (Tap with three fingers on the screen to activate the Scrollpad).
GUEST MODE
iCab Mobile itself can be password protected. When password protection is on, you can enable a guest mode with limited privileges which is available without a password. The guest mode can have its own subset of bookmarks and search engines.
DROPBOX
iCab Mobile supports Dropbox. Export/Import bookmarks; transfer downloads, images, files, web pages to your Dropbox account.
OTHER FEATURE:
– Configurable multi-touch gestures
– QuickStarter feature
– AirPrint support (iOS 4.2 required)
– Browser ID (UserAgent) is configurable
– iCab Mobile fully supports international domain names (IDN – domain names with language-specific characters).
– VGA Out: Web pages can be didplayed on an external display.
– Send (smaller) downloads via email
– Cookie Manager, lists all cookies, cookies can be deleted individually
– Private Browsing (no history and no cookies are stored)
– Privacy settings allows to delete all kinds of private data (history, cookies, databases, saved forms, passwords etc.)
– Option to pass the current web page to another App on the device which can open the page
– URL autocompletion based on bookmarks and/or history
– Simple built-in RSS reader
– Save images, whole web pages, PDF files
– Kiosk Mode – a restricted variation of the fullscreen mode for Kiosk environments.
– Autorotation supported
– History
– Addressbook support lets you access the web pages from the addressbook.
– When launching iCab can either open an empty page, the homepage or restore the Tabs which were open the last time
– Page-Compression is supported to save bandwith.
– There are different color schemes (skins) on the iPhone/iPod Touch
– Document Sharing lets you pass downloads and files to other Apps in the device (iOS 3.2/4.x required)
– Multitasking support for iOS 4: Downloads can continue while the app is in the background, playing audio files in web pages can continue in the background.
What's New in Version 8.9.1
Fixes an issue which only occurs on an iPad under iOS 8.4 where certain Alert boxes did not open.
What's New in Version 9.2
– Improved "Fill out Forms" feature which will now also support forms defined by invalid or broken HTML code
– Friends of the AdBlock plus/EasyList filters can now directly use these filter lists within iCab Mobile. You need to download your favorite filter lists from one the available AdBlock plus/EasyList sources, then tap on the filters file in the download manager and select the "Import AdBlock/EasyList Filter" menu item. This is all you need to do. iCab Mobile will then import all filters from the filter list it can use (not all filters in those lists can be used) and creates a new filter set in the filter manager. All the filters will be converted into iCab's own filter format, so you can enable/disable and edit them just like any other filters. Please note: it is not recommended to use these AdBlock/EasyList filters on older iOS devices (like the iPhone 4, iPad 2 or iPad mini 1). These filter lists include an extremely large number of filters, which might cause speed and memory issues on these older devices.
– On the iPhone when using the combined URL/Search field, the icon of the currently selected search engine will be displayed at the left of the field while entering the search term or URL. This way you can directly see which search engine will be used for the search. Tapping on this icon will also directly show the lost of search engines where you can pick another one for the search.
– When filling out forms, the keyboard has another button attached which can be used to put the content of the clipboard into the currently selected form field
– When filling out forms on an iPad under iOS 9 and later, it is now possible to move the buttons that are attached to the keyboard (fill form, save form, QR code scanner and paste clipboard)to the left or right using a swipe gesture. So if the buttons overlap certain elements of the web site, these can be moved to the other side.
– New Module added to call the "CamelCamelCamel" service, which lists the price history of a product on an Amazon product page
– Added a workaround for misconfigured web servrs which explicitly ask the browser to download JSON files, that should definitely not be downloaded
– Bugfix: When using the Twin Browser Mode, the fullscreen buttons have to be used twice for the second browser after the fullscreen mode was enabled in the first
– Added a workaround for the case where network connections time out for no reason.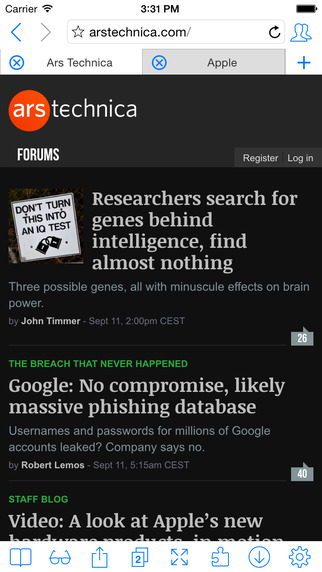 Download iCab Mobile: iTunes ($1.99)
v9.2: Userscloud | Openload | Dailyuploads
v8.11 Openload | Userscloud
v8.10.1: Openload
v8.10: Userscloud | Openload
v8.9.1: Userscloud