John Rambo has returned to the States after serving during the Vietnam War. He is the sole surviving member of an elite United States Army Special Forces Green Beret unit. Can you succeed in this thrilling arcade shooter?
Be John Rambo.
The explosive, blood-filled and gun-toting story of John Rambo has been realised in Game form.
Survive enemy hordes & hardware
Rambo is a wanted man and the enemy will use any weapon to hunt him down! From dogs and infantry to tanks and helicopters.
Deploy Rambo's signature arsenal.
The best weapons from the films have been included; Colt M1911 pistol, Remington 870 shotgun, AK-47 assault rifle, Compound bow and the powerful M60 Heavy Machine Gun! Use your favourite!
Cross treacherous terrains.
From the mountains of Hope, the jungles of Vietnam and the deserts of Afghanistan.
Close Combat Confrontations.
Master the survival knife and hand-to-hand fighting techniques.
Engage Wrath Mode.
When the enemy push it, give them a war they won't believe with boosted combat abilities.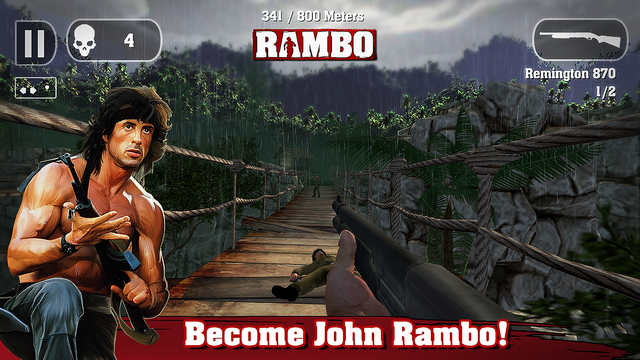 Download Rambo – The Mobile Game: iTunes ($3.99) | Megacloudfiles | Openload | Userscloud