WeeTrackData is the easiest tool to keep track of your cellular data usage. You can access all the necessary statistic about your data transfers right from the iOS Notification Center!
WeeTrackData is especially made for customers with limited data volumes, so you can set up a monthly data volume and the widget shows you live time stats about your data usage in the current month, the last 7 days or the current day usage in a very beautiful and simple way.
Languages: English, German, Dutch, Spain, French, Hebrew, more available soon!
You can support me now by translating WeeTrackData to your language. To do so, visit this site and contact me at [email protected]
Swipe the display to see other views
Notification Center addons can be configured from the Settings app, in the Notifications panel
Compatible with iOS 5 and 6
Changelog:
v1.5.9
– critical bug fix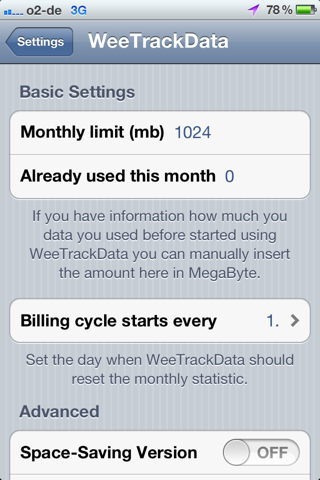 Download WeeTrackData for NotificationCenter 1.5.9 deb